Aus dem Nichts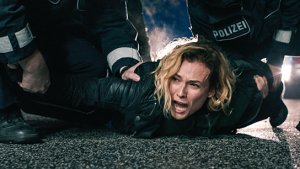 Source: Warner Bros., DIF, © 2016 Bombero International, Warner Bros. Ent.
Diane Kruger in "Aus dem Nichts" (2017)
Inhalt
In the Fade
Katja's life in Hamburg is completely derailed when her husband Nuri and their son Rocco are killed in a terrorist bombing. She hits rock bottom, starts taking drugs and contemplates suicide. Eventually, the police identify and arrest the perpetrators: André und Edda, a neo-Nazi couple. It was André's own father, who led the police on the right track. Yet Katja's hope that the murderers receive their sentence in court is shattered. Following a harrowing trial, in which Nuri's best friend Danilo serves as Katja's lawyer, Edda und André are acquitted for want of evidence. Katja is devastated, but soon her desperation gives way to an urge for vigilante justice.
Credits
All Credits
Director:
Fatih Akin
Assistant director:
Scott Kirby
Screenplay:
Fatih Akin
Co-Autor:
Hark Bohm
Director of photography:
Rainer Klausmann
Camera operator:
Donat Schilling
Lighting design:
Torsten Lemke
Production design:
Tamo Kunz
Make-up artist:
Daniel Schröder, Maike Heinlein
Costume design:
Katrin Aschendorf
Editing:
Andrew Bird
Sound:
Kai Lüde
Audio mixing:
Richard Borowski
Sound (other):
Kai Storck (Sound Supervisor)
Casting:
Monique Akin
Music:
Pia Hoffmann
Cast:
Diane Kruger
Katja Şekerci
Denis Moschitto
Danilo Fava
Numan Acar
Nuri Şekerci
Rafael Santana
Rocco Şekerci
Samia Chancrin
Birgit
Johannes Krisch
Verteidiger Haberbeck
Hanna Hilsdorf
Edda Möller
Ulrich Brandhoff
André Möller
Adam Bousdoukos
Knacki
Torsten Lemke
Standesbeamter
Production company:
Warner Bros. Filmproduktion GmbH (Hamburg), Bombero International GmbH & Co KG i.G. (Hamburg)
in co-production with:
Macassar Productions (Paris), Pathé Cinema (Paris), Dorje Film (Rom), Corazón International GmbH & Co. KG (Hamburg)
in association with:
Canal + (Paris), Cine+ Filmproduktion GmbH (Berlin)
Producer:
Nurhan Sekerci, Fatih Akin, Herman Weigel
Co-Producer:
Mélita Toscan du Plantier, Marie-Jeanne Pascal, Jérôme Seydoux, Sophie Seydoux, Ardavan Safaee, Alberto Fanni, Flaminio Zadra
Producer:
Ann-Kristin Homann
Line producer:
Christian Vennefrohne
Associate producer:
Michael Weber, Harro von Have
Unit production manager:
Klaus Spinnler
Shoot:
20.10.2016-21.11.2016: Hamburg, Griechenland
Original distributor:
Warner Bros. Pictures Germany GmbH (Hamburg)
Funding:
Filmförderung Hamburg Schleswig-Holstein GmbH (FFHSH) (Hamburg), Deutscher Filmförderfonds (DFFF) (Berlin), Beauftragte/r der Bundesregierung für Kultur und Medien -Filmförderung- (Berlin), Film- und Medien Stiftung NRW (Düsseldorf), Filmförderungsanstalt (FFA) (Berlin)
Length:
106 min
Format:
DCP
Picture/Sound:
Farbe, Dolby
Rating:
FSK-Prüfung (DE): 14.09.2017, 171564, ab 16 Jahre / feiertagsfrei
Screening:
Uraufführung (FR): 26.05.2017, Cannes, IFF;
Kinostart (DE): 23.11.2017
Titles
Originaltitel (DE) Aus dem Nichts
Weiterer Titel In the Fade
Versions
Original

Length:
106 min
Format:
DCP
Picture/Sound:
Farbe, Dolby
Rating:
FSK-Prüfung (DE): 14.09.2017, 171564, ab 16 Jahre / feiertagsfrei
Screening:
Uraufführung (FR): 26.05.2017, Cannes, IFF;
Kinostart (DE): 23.11.2017
Awards
Bayerischer Filmpreis 2018
Beste Regie
Critics' Choice Awards 2018
Critics' Choice Award, Bester fremdsprachiger Film
Golden Globe Awards, Los Angeles 2018
Golden Globe, Bester fremdsprachiger Film
Hubert Burda Media 2017
Bambi, Sonderpreis der Jury
IFF Cannes 2017
Beste Darstellerin