Müll im Garten Eden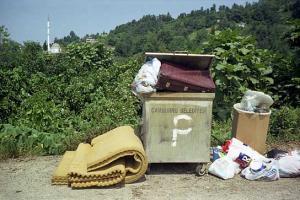 Source: Pandora Film, DIF, © corazón international, Photo: Hervé Dieu
Still from "Müll im Garten Eden"
Inhalt
Polluting Paradise
Camburnu is a small mountain village in northeastern Turkey. Thanks to the Black Sea's mild and humid climate, the villagers have lived for generations off tea cultivation and fishing in harmony with the nature surrounding them. But this idyllic environment is threatened by the government's decision ten years ago to build a garbage landfill directly above the village. Despite protests by the mayor and the villagers, a waste facility has been built that does not comply with the most important security and building standards and since then has continued to pollute the environment through accidents and disasters.
The air is polluted, the ground water is contaminated, the annual rains flush the waste down the slopes, and flocks of birds and stray dogs have besieged the village. The tea growers, whose plantations lie beneath the landfill, have lost their livelihood. The consequences are devastating and clearly evident for everyone to see and yet tons of waste continues to be dumped in the landfill every day.
In 2006 award-winning filmmaker Fatih Akin went to Camburnu for the first time to shoot the finale of his film "The Edge of Heaven" in his grandparent's home village. When he learns of the impending environmental disaster, he decides to take action in the best way he knows how. Over a period of more than 5 years, he documents the small village's struggle against the country's powerful institutions, and records the inevitable disasters that consistently plague this former paradise. "Polluting Paradise" is a remarkable portrait of a Turkish community far removed from the major urban centers and a moving plea for civil courage.
Source: German Films Service & Marketing GmbH
Credits
All Credits
Director:
Fatih Akin
Assistant director:
Nurhan Sekerci
Screenplay:
Fatih Akin (Konzept)
Director of photography:
Hervé Dieu
Assistant camera:
Lothar Niehaus
Editing:
Andrew Bird
Assistant editor:
Julia Drache
Sound design:
Felix Roggel
Sound:
Jörn Martens, Thomas Keller, Michael Kunz
Audio mixing:
Richard Borowski
Music:
Alexander Hacke
Production company:
Corazón International GmbH & Co. KG (Hamburg)
in co-production with:
Norddeutscher Rundfunk (NDR) (Hamburg)
in association with:
Dorje Film (Rom)
Producer:
Fatih Akin, Klaus Maeck, Alberto Fanni, Flaminio Zadra, Paolo Colombo
Producer (TV):
Jeanette Würl (NDR), Christian Granderath (NDR)
Line producer:
Christian Springer
Shoot:
: Çamburnu, Türkei
Original distributor:
Pandora Film GmbH & Co. Verleih KG (Aschaffenburg)
Funding:
Filmförderung Hamburg Schleswig-Holstein GmbH (FFHSH) (Hamburg), Deutscher Filmförderfonds (DFFF) (Berlin), Filmförderungsanstalt (FFA) (Berlin)
Length:
97 min
Format:
35mm, 1:1,85
Picture/Sound:
Farbe, Dolby
Rating:
FSK-Prüfung (DE): 22.10.2012, 135457, ohne Altersbeschränkung/feiertagsfrei
Screening:
Uraufführung (FR): 18.05.2012, Cannes, IFF;
Kinostart (DE): 06.12.2012
Titles
Originaltitel (DE) Müll im Garten Eden
Weiterer Titel (DE) Garbage in the Garden of Eden
Versions
Original

Length:
97 min
Format:
35mm, 1:1,85
Picture/Sound:
Farbe, Dolby
Rating:
FSK-Prüfung (DE): 22.10.2012, 135457, ohne Altersbeschränkung/feiertagsfrei
Screening:
Uraufführung (FR): 18.05.2012, Cannes, IFF;
Kinostart (DE): 06.12.2012
Awards
FBW 2012
Dokumentarfilm des Monats
Prädikat: besonders wertvoll
Verfügbarkeit
Videos
External Links