Die Friseuse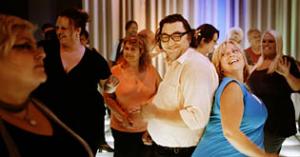 Quelle: Constantin, DIF, © Constantin Film, Foto: Mathias Bothor
Szene mit Heiko Pinkowski, Gabriela Maria Schmeide (vorne, Mitte)
Inhalt
The Hairdresser
Back to square one! Unemployed hairdresser Kathi König has decided to move back to the Berlin district of Marzahn where she grew up. Her ex-husband, Micha, is still living in their detached house in Gräfenhainichen with his new wife and a new daughter. So here she sits, in between packing cases and the dubious charm of Marzahn's concrete pre-fabs. Nonetheless, Kathi is determined to get a grip on her new life.
The job centre finds her a position at a hairdressing salon at Eastgate shopping centre. Kathi, who received her hairdressing training in the GDR and has a genuine passion for her trade, is to start the very next day. Unfortunately Kathi, who is a very heavy girl, is turned down because she ′doesn't look the part′. At least that's what the salon's boss, Mrs Krieger, tells her. But Kathi isn't easily deterred. She decides to open up her own hairdressing salon in the now-empty Asian snack bar next door to Salon Krieger. This marks the beginning of a battle with the authorities, the banks and a bevy of consultants.
"Die Friseuse" is the first Doris Dörrie film that has not been adapted from the filmmaker's own screenplay. Doris Dörrie: "I was inspired by the character of Kathi. Laila Stieler hadn't even written the screenplay when she first told me story. In long conversations she managed to convey the character of this hairdresser in a way that was so genuine, so real, so funny and excitingly different that I said to Laila: ′When you've finished the screenplay, I'll be first in the queue of those wanting to film it.′ When I read the finished script I knew at once that I wanted to set out on this expedition into exotic territory – because East Germany is indeed exotic for me. But I can see East Germany with fresh eyes, because I hardly know it. And I for one would like to know more about someone like this hairdresser."
Source: 60. Internationale Filmfestspiele Berlin (Catalogue)
Credits
All Credits
Director:
Doris Dörrie
Screenplay:
Laila Stieler
Director of photography:
Hanno Lentz
2nd Camera unit:
Uwe Neumeister
Lighting design:
Michael Beitz
Set design:
Susanne Hopf (Szenenbild), Natalja Meier (Art Director)
Property master:
Bele Schneider
Stand-by props:
Albrecht Hartmann
Make-up artist:
Evelyn Döhring
Costume design:
Sabine Greunig
Costumes:
Melina Scappatura
Editing:
Inez Regnier, Frank Müller
Assistant editor:
Jana Krohn
Sound design:
Christoph Ebardth
Sound:
Rainer Plabst
Sound assistant:
Kristofer Harris
Audio mixing:
Max Rammler-Rogall
Casting:
Doris Borkmann
Music:
LaBrassBanda, Coconami, Ivan Hájek
Cast:
Gabriela Maria Schmeide
Kathi König
Natascha Lawiszus
Julia
Ill-Young Kim
Tien
Christina Große
Silke
Rolf Zacher
Joe
Maria Happel
Centerleiterin
Maren Kroymann
Frau Krieger
Matthias Freihof
Micha
Pierre Sanoussi-Bliss
Notarzt
Jördis Triebel
Daggi
Production company:
Collina Filmproduktion GmbH (München)
in co-production with:
Constantin Film Produktion GmbH (München)
Producer:
Ulrich Limmer
Executive producer:
Martin Moszkowicz
Producer:
Laila Stieler
Line producer:
Volker Wach
Associate producer:
Ruth Stadler
Unit production manager:
Volker Wach
Location manager:
Tobias Knips (Motiv), Jan Pyko (Set)
Shoot:
28.09.2009-05.11.2009: Berlin, Osinow Dolny (Polen)
Original distributor:
Constantin Film Verleih GmbH (München)
Funding:
FilmFernsehFonds Bayern GmbH (FFFB) (München), Medienboard Berlin-Brandenburg GmbH (MBB) (Potsdam), Deutscher Filmförderfonds (DFFF) (Berlin), Filmförderungsanstalt (FFA) (Berlin)
Length:
100 min
Format:
35mm, 2:2,35
Picture/Sound:
Farbe, Dolby
Screening:
Uraufführung (DE): 14.02.2010, Berlin, IFF - Berlinale Spezial;
Kinostart (DE): 18.02.2010
Titles
Originaltitel (DE) Die Friseuse
Versions
Original

Length:
100 min
Format:
35mm, 2:2,35
Picture/Sound:
Farbe, Dolby
Screening:
Uraufführung (DE): 14.02.2010, Berlin, IFF - Berlinale Spezial;
Kinostart (DE): 18.02.2010
Awards
FBW 2010
Prädikat: wertvoll
Verfügbarkeit
Videos
Materials
External Links