Janine F.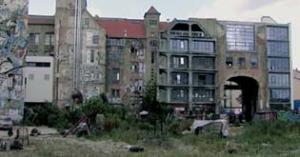 Quelle: Filmakademie Baden-Württemberg GmbH (Ludwigsburg)
Inhalt
Janine F.

In November 2002, the newspapers were full of the story of a 24-year-old woman named Janine F. who leapt to her death from a fifth floor window of the Berlin art centre "Tacheles".
In the opinion of many a reporter, the artists at Tacheles were not without blame for her death, since they had neglected to take seriously a video recording they had made in which Janine announced her death wish. The morning after her fatal leap, tourists photographed her dead body – thinking it to be part of an artistic performance.
In this film, Teresa Renn traces the victim's personal history and asks: who was Janine F. and why did she commit suicide? Renn's search commences at Tacheles art centre where Janine shared a communal studio with a number of other artists. Janine's colleagues' first impression had been of a strong and cheerful woman who seemed to know exactly what she wanted. This image was to change during the course of time, and Iranian artist Resa remembers how Janine later began to talk about hearing voices.
Apart from fellow-artists, the film also interviews Janine's closest friends and, gradually, the viewer begins to acquire a better picture of Janine's personality. Hers was a life in which her art, on which she worked day and night, but also drugs, such as speed or liquid ecstasy, played a central role. Janine F. lived her life full on. And on knife-edge. She never said much about the voices she heard. And none of her friends had any idea just how serious things really were.

Source: 55. Internationale Filmfestspiele Berlin (Catalogue)
Credits
All Credits
Titles
Originaltitel (DE) Janine F.
Versions
Original

Length:
80 min
Format:
DigiBeta
Picture/Sound:
Farbe, Ton
Awards
FIRST STEPS Award 2004
First Step Award, Dokumentarfilm