Layla Fourie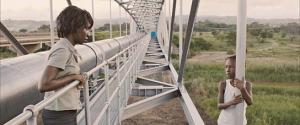 Source: Real Fiction Filmverleih, DIF, © Pandora Filmproduktion
Rayna Campbell, Rapule Hendricks in "Layla Fourie" (2012/13)
Inhalt
Layla is a single mother living with her son in Johannesburg, getting by with casual work. After training as a polygraph operator she manages to secure a job with a company specialising in lie detectors and security. On her way to her new workplace she is involved in an accident which will fundamentally change her life. Layla becomes entangled in a web of lies and deceit. The truth could lead to the loss of her son.
For her third feature film Pia Marais - who has lived in Berlin for many years - returned to South Africa where she grew up to make this classic thriller. She uses the genre to take a look at a country which still bears the scars of apartheid. In this way, everyday life in South Africa enhances the tension in the screenplay which she co-wrote with Horst Markgraf.
Almost casually, "Layla Fourie" develops into a political thriller which takes the audience into the paranoia, fear and mistrust of a society that is still profoundly affected by racial conflict.
Source: 63. Internationale Filmfestspiele Berlin (Catalogue)
Credits
All Credits
Director:
Pia Marais
Assistant director:
Eva Franzen
Screenplay:
Pia Marais, Horst Markgraf
Director of photography:
André Chemetoff
Still photography:
Martin Menke
Lighting design:
Sven Meyer
Production design:
Petra Barchi
Art director:
Sam Ramosuku
Make-up artist:
Chiara Minchio, Marc Crisp
Costume design:
Maleen Nokel
Editing:
Chris Teerink, Mona Bräuer
Sound design:
Bruno Tarrière
Sound:
Herman Pieete
Audio mixing:
Bruno Tarrière
Music:
Bachar Khalife
Cast:
Rayna Campbell
Layla Fourie
August Diehl
Eugene Pienaar
Rapule Hendricks
Kane
Terry Norton
Constanza Viljoen
Rapulana Seiphemo
Sipho Khumalo
Jeroen Kranenburg
Gerrit Viljoen
David Mello
Petrus
Gérard Rudolf
Van Niekerk
Yûho Yamashita
Suzy
Jeanne Balibar
Production company:
Pandora Filmproduktion GmbH (Köln)
in co-production with:
Spier Films (Kapstadt), Topkapi Films (Amsterdam), DV8 Films (Johannesburg), Cinema Defacto (Paris), Westdeutscher Rundfunk (WDR) (Köln)
in association with:
Arte Deutschland TV GmbH (Baden-Baden)
Producer:
Christoph Friedel, Claudia Steffen
Co-Producer:
Michael Auret, Tom Dercourt, Frans van Gestel, Jeremy Nathan, Arnold Heslenfeld, Laurette Schillings
Producer (TV):
Georg Steinert (Arte), Andrea Hanke (WDR)
Line producer:
Moroba Nkawe
Unit production manager:
Gail Overton, Katja Christochowitz (Deutschland)
Location manager:
Stefan Neugebauer, Simon Raphael Louwen
Shoot:
05.03.2012-30.05.2012: KwaZulu Natal, Johannesburg, Südafrika, Köln
Original distributor:
Real Fiction Filmverleih (Köln)
Funding:
Filmförderungsanstalt (FFA) (Berlin), Medienboard Berlin-Brandenburg GmbH (MBB) (Potsdam), Film- und Medien Stiftung NRW (Düsseldorf), Deutscher Filmförderfonds (DFFF) (Berlin), Centre National du Cinéma et de l'Image Animée (Paris), The Netherlands Film Fund (Amsterdam), Department: Trade and Industry Repuplic of South Africa (Kapstadt), Media Programm der EU (Brüssel), Eurimages der EU (Strasbourg)
Length:
112 min
Format:
DCP, 16:9
Picture/Sound:
Farbe, Dolby
Rating:
FSK-Prüfung (DE): 18.06.2013, 139408, ab 12 Jahre/feiertagsfrei
Screening:
Uraufführung (DE): 11.02.2013, Berlin, IFF - Wettbewerb;
Kinostart (DE): 04.07.2013
Titles
Originaltitel (DE) Layla Fourie
Versions
Original

Length:
112 min
Format:
DCP, 16:9
Picture/Sound:
Farbe, Dolby
Rating:
FSK-Prüfung (DE): 18.06.2013, 139408, ab 12 Jahre/feiertagsfrei
Screening:
Uraufführung (DE): 11.02.2013, Berlin, IFF - Wettbewerb;
Kinostart (DE): 04.07.2013
Verfügbarkeit
Current News
External Links