Michael Nyman in Progress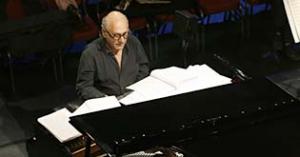 Quelle: Arthaus Musik, Foto: Eva Kohlweyer
Inhalt
Michael Nyman – a composer famous for his genre defining film music, which, in a career spanning over 30 years, has encompassed movies as diverse as "The draughtsman′s contract", "Gattaca", and the worldwide hit "The piano". The massive success of his soundtrack for "The piano" was for many people the defining point in
Nyman's career. So much so that it has taken the artist fifteen years to break free from his association with the film in the public's mind and be accepted once more as a multitalented contemporary composer.
Starting with the celebrations for his 65th birthday in March 2009, this film shows one of the great composers of our time in all his diversity and endless energy. Featuring unprecedented access to the composer and his working life, the film accompanies Nyman on the journey from his home in London through Europe, Russia, Mexico, China, and beyond. It shows his concerts with the Michael Nyman Band during which greatest hits are performed from his long career and live collaborations with other internationally known musicians.
Throughout his journeys, Nyman's increasing passion for filming and photography gives the film an insight into his views, his thoughts and emotions; his world. Recently Nyman started to edit his visual works and combine them with his music. This he describes as a ′new liberty′, after three decades of working with other director's visual
images.


Source: German Films Service & Marketing GmbH
Credits
All Credits
Director:
Silvia Beck
Screenplay:
Silvia Beck (Konzept), Oliver Becker (Konzept)
Director of photography:
Michael Boomers
Editing:
Bernd Euscher
Sound design:
Claudia Wronski
Sound:
Andreas Köppen
Music:
Michael Nyman
Participation:
Michael Nyman, Steve Reich, Volker Schlöndorff, Meredith Monk, Peter Greenaway, Ute Lemper, Brian Eno, Holly Hunter
Production company:
Monarda Arts GmbH (Halle (Saale))
in co-production with:
Arthaus Musik (Halle (Saale)), Westdeutscher Rundfunk (WDR) (Köln)
in association with:
British Broadcasting Corporation (BBC) (London), Arte Deutschland TV GmbH (Baden-Baden)
Producer:
Oliver Becker
Producer (TV):
Lothar Mattner
Unit production manager:
Marita Stocker
DVD distributor:
Arthaus Musik (Halle (Saale))
Funding:
Mitteldeutsche Medienförderung GmbH (MDM) (Leipzig)
Length:
82 min
Format:
HDCam, 16:9
Picture/Sound:
Farbe, Dolby SR
Screening:
Uraufführung (PL): 08.10.2010, Warschau, Film Festival;
Erstaufführung (DE): 28.10.2010, Hof, Internationale Filmtage;
TV-Erstsendung (DE): 28.11.2010, Arte
Titles
Originaltitel (DE) Michael Nyman - Composer in Progress
Originaltitel (DE) Michael Nyman in Progress
Aufführungstitel (DE) Nyman in Progress
Versions
Original

Length:
82 min
Format:
HDCam, 16:9
Picture/Sound:
Farbe, Dolby SR
Screening:
Uraufführung (PL): 08.10.2010, Warschau, Film Festival;
Erstaufführung (DE): 28.10.2010, Hof, Internationale Filmtage;
TV-Erstsendung (DE): 28.11.2010, Arte

DVD-Fassung

Originaltitel (DE) :
Michael Nyman - Composer in Progress
Length:
52 min
Format:
DVD, 16:9
Picture/Sound:
Farbe, Stereo
Rating:
FSK-Prüfung (DE): 23.07.2010, 35420, ohne Altersbeschränkung
Videos
Materials
Current News