Alexandra Maria Lara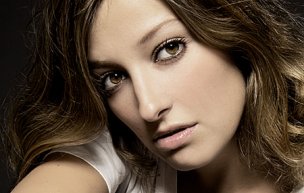 Alexandra Maria Lara (2009)
Biography
Alexandra Maria Lara, born as Alexandra Maria Platareanu on November 12, 1978, in Bucharest, Romania, as the daughter of actor Valentin Platareanu. In 1983, her family left Romania for political reasons and went to West Berlin via Freiburg.
In Berlin, her father set up the officially recognized "Schauspielschule Charlottenburg". Alexandra Maria Lara already made her acting debut at the age of eleven in a small role in the TV production "With Love, Rita" (1989). After several smaller roles she landed the title role of the ten-part pre-prime-time TV series "Mensch, Pia!" in 1996 – already under her stage name of "Lara". In the following year, she started to attend actor's training at her father"s drama school and graduated in 2000. During this time, she already appeared in several TV productions and on the movie screen in the film "Südsee, eigene Insel" ("Our Island in the South Pacific", 1999).
After supporting roles in films like Roland Suso Richter's GDR escape thriller "Der Tunnel" ("The Tunnel", TV, 2001), or Peter Thorwarth's crook comedy "Was nicht passt wird passend gemacht" ("If It Don"t Fit, Use a Bigger Hammer", 2002), Lara made her breakthrough in 2002 in Doris Dörrie's ensemble film "Nackt" ("Naked"). In the same year, she also starred in the elaborate, international TV co-productions "Doctor Zhivago" and "Napoleon" Lara then further established her image as naïve seeming, girlish woman who recovers her self-esteem in the decisive moment though. Director Oliver Hirschbiegel also used Lara's image when he gave her the role of Hitler's secretary Traudl Junge in his film "Der Untergang" ("Downfall") – the extremely controversial film became a box office hit and finally made Lara internationally famous.
She then played leading roles in films as diverse as Helmut Dietl's romance "Vom Suchen und Finden der Liebe" ("About the Looking for and the Finding of Love", 2005), Doris Dörrie's satirical film "Der Fischer und seine Frau" ("The Fisherman and His Wife", 2005), Didi Danquart's film "Offset" (2006), and Anno Saul's politically incorrect comedy "Wo ist Fred" ("Where Is Fred?") alongside Til Schweiger.
In 2007 and 2008, Lara starred in several international productions for the movie screen and worked with a under well-known directors: After the British comedy "I Really Hate My Job", directed by the Shakespeare specialist Oliver Parker, and Anton Corbijn's highly praised "Control", the biopic about the musician Ian Curtis, Lara appeared in Francis Ford Coppola's "Youth Without Youth" (Coppola gave the role to Lara after he had seen her in "Der Untergang"), in James Ivory's "The City of Your Final Destination" alongside Anthony Hopkins, and in Spike Lee's World War II drama "Miracle at St. Ana".
In the summer of 2008, Lara was seen in film with a very German topic: In Uli Edel's multiple award-winning film "Der Baader Meinhof Komplex" ("The Baader Meinhof Complex"), that nevertheless received controversial reviews, she played the terrorist Petra Schelm. In spring of 2009, Lara already returned to the movie screen and starred in Esther Gronenborn's atmospheric, however less abundantly produced mystery thriller "Hinter Kaifeck" ("Kaifeck Murder"). Subsequently, she was cast in several international productions including leads in the Arabic production "City of Life" (2009) and the German-French drama "Je n'ai rien oublié" ("Small World", 2010) alongside Gérard Depardieu.
At the end of 2011, Lara starred in Detlev Buck's showbiz comedy "RubbeldieKatz" ("Woman in Love"), a film about an unemployed actor who starts an amazing career by dressing up as a woman. Then, she played in Christoph Schaub's whimsical road movie "Nachtlärm" ("Lullaby Ride").