Angelina Maccarone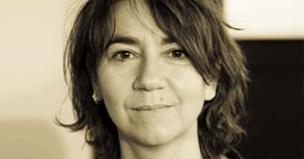 Quelle: Angelina Maccarone, © Christine Schroeder
Biography
Angelina Maccarone, born August 21, 1965, in Pulheim near Cologne, wrote song lyrics for Udo Lindenberg and ROH after finishing school. In 1985, she moved to Hamburg and studied German philology and American studies with a media focus. Her treatment for "Kommt Mausi raus?" about the coming out of a young lesbian woman won the award of the Hamburg Department of Culture in 1992. Maccarone then wrote the screen play for the TV movie of the same name, that was nominated for the Telestar award in 1995. She also co-directed the film with Alexander Scherer. In 1997/98, Maccarone finished "Alles wird gut" ("Everything Will Be Fine"), a film about two African-German women. The comedy was shown at numerous festivals and won audience awards in Los Angeles, New York, and Paris.
After "Ein Engel schlägt zurück" ("An Angel's Revenge"), another TV project as writer and director, Maccarone wrote the road movie "Vivere". But before she started shooting "Vivere", Maccarone finished two other films: the drama "Fremde Haut" ("Unveiled"), based on a script she wrote together with her cinematographer Judith Kaufmann, and the drama "Verfolgt" ("Hounded"). Both films were celebrated at several festivals and were successful with critics and moviegoers alike. While "Fremde Haut" won the 2005 Hessian film award as "Best feature film", "Verfolgt" triumphed at the Locarno film festival, where the the story of a 52-year old female parole officer who gets involved in a sadomasochistic relationship with a 16-year old delinquent, won the "Golden Leopard". At least since "Verfolgt", Maccarone has become one of the most important contemporary German filmmakers who at the same time proves that there exists an ambitious auteur cinema beyond the so-called "Berlin school".
Her next film, the road movie "Vivere", starring Hannelore Elsner and Esther Zimmering, premiered in May 2007 at New York's Tribeca film festival.