Buket Alakuş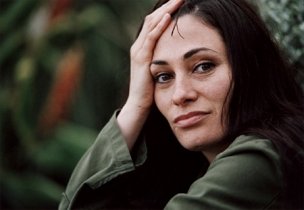 Source: 56. Internationale Filmfestspiele Berlin (Catalogue), Photo: Marcus Lambrecht
Biography
Buket Alakuş, born July 1, 1971, in Istanbul, is living in Hamburg since 1974. After finishing school, she went to Berlin to complete a training as a communications specialist at Berlin's Hochschule für Bildende Künste. Then, she studied directing under Hark Bohm at Hamburg university's Institut für Theater, Musiktheater und Film from 1996 to 1998. Her second short film "Schlüssel" was shown at several festivals, including the Festival Mondial du Cinéma des Courts Métrages in Belgium where she won the award as Best leading actress.
In 2001, Alakuş made her feature film debut with "Anam" ("My Mother"), a film about a Turkish cleaning lady who starts to look for her drug addicted son with the support of her colleagues. The tragicomic film won several awards (including the audience awards of the film festivals in Braunschweig and Oldenburg) and made a name for Alakuş as a promising talent of contemporary German cinema. Her next feature film "Eine andere Liga" ("Offside", 2005) – again produced by Wüste-Film – tells the story of a female football player who is suffering from cancer but is able to return to love and life. This film was also celebrated by film critics and won the Grimme award as well as the audience award at the Max Ophuels festival. In 2008, Buket Alakuş finished her third feature film "Finnischer Tango" ("Finnish Tango").
Although the offbeat comedy got rave reviews, it nevertheless took five years until Alakuş presented her next theatrical release, the comedy "Einmal Hans mit scharfer Soße" (2013). Based on the bestselling novel by Hatice Akyün, the film tells the story of a German-Turkish woman who is willing to marry someone in order to help her younger sister – as long as it is a German man with a Southern temperament. After a successful premiere at the 2013 Munich Film Festival, the film was released in Germany in June 2014.
Current News
External Links