Christian Bau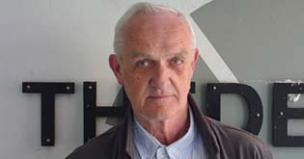 Quelle: doris bandhold filmpromotion
Biography
Christian Bau, born in 1942, completed an apprenticeship as a photographer and began studying film with Wolfgang Ramsbott at the HfBK (the University of Fine Arts of Hamburg) in the first film class to emerge in the Federal Republic of Germany. In addition to the noted Lichtwark scholarship in Hamburg (1968) Christian Bau was also offered a DAAD scholarship in London. After graduating in 1969 he worked together with the German directors Robert van Ackeren and Werner Nekes amongst others and belonged to the pioneers of the "Other Cinema" in Germany.
Together with other documentary filmmakers Christian Bau founded the film cooperative "die thede" in Hamburg in 1980 and has completed his documentary film projects there ever since. As a producer he also supervises external film projects. The production company "thede filmproduktion" was founded in 1999. His film "Maschinensturm", about the conflict between men and machines, was nominated for the German Film Critics Award in 1987.
Christian Bau"s documentary "Zwiebelfische – Jimmy Ernst, Glückstadt – New York" ("In the Boondocks") is released together with a book in the autumn of 2010.
Filmography
2014/2015
Snapshot Mon Amour
Director, Screenplay, Director of photography, Producer
2011/2012
Das Ding am Deich - Vom Widerstand gegen ein Atomkraftwerk
Producer
2010
Zwiebelfische – Jimmy Ernst, Glückstadt-New York
Director, Screenplay, Producer
2007-2011
20 Geigen auf St. Pauli
Producer
2005/2006
18.15 Uhr ab Ostkreuz
Cast
2003/2004
Axensprung: Ein Reisetagebuch
Director, Screenplay
2001
Die Abaton Saga
Director
1998
Die kritische Masse
Participation, Director, Screenplay, Commentary, Interviews
1995
Eiffe for President - Alle Ampeln auf gelb
Director, Screenplay
1993
Eiffe-Spot
Director
1992
Rendezvous der Freunde
Director, Screenplay, Sound
1991
Mai Tape
Director
1990
Lubitsch Junior
Director, Screenplay, Director of photography, Sound
1988/1989
Europa, abends
Cast
1988
Hilfe Almosen
Director
1987
Maschinensturm
Director
1986
Her mit dem schönen Leben
Director
1985
Liebeskummer
Director, Director of photography, Editing
1985
Wasserzeichen
Voice
1984/1985
Das neue Hamburg
Director, Sound
1983-1986
Wiedersehen
Director
1983
Aus Lust am Schauen
Director, Director of photography, Editing
1983
Hamburg-Altona, ein starkes Stück
Director
1981-1984
Thedebadfilm
Director, Director of photography, Editing
1981
Amandastrasse 73
Director
1981
Billrothstrasse 55
Director
1981
Virchowstrasse 56
Director
1980
Hospitalstrasse 6
Director
1972
Wenn das so kommt ...
Director
1969
Kubla Khan
Director
1969
Entwicklungen
Director of photography
1968
Alexanderschlacht
Assistant camera
1968
Denkmal
Director, Producer
1968
Papier und Form
Director
1968
Lübke
Director, Producer
1968
Palim-Palim
Director, Screenplay, Director of photography, Producer
1968
Realitätsfragment II
Director
1967
Crash
Director, Screenplay, Producer
1966
Anfangszeiten
Director, Director of photography
1965/1966
Poesie und Großstadt
Assistant camera