Christoph Bach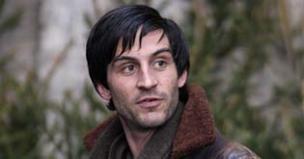 Quelle: Warner Home Video
Biography
Christoph Bach, born 1975, already became interested in acting during his school days. After finishing civil service, he initially studied German literature, philosophy and theatre, film and media studies for several semesters before he started to attend actor"s training at Berlin"s Hochschule der Künste which was followed by appearances in an MTV comedy series and in several TV crime series such as "Tatort" and "Donna Leon".

Bach made his movie debut in the satirical comedy "Narren" ("Fools") and won "Best actor" at the 2003 Munich film festival for his ambivalent portrayal of an outsider. The Munich jury called him "a promising new acting talent". Bach also proved his talent in the award-winning drama "Katze im Sack" ("Let the Cat Out of the Bag") as well as in the comical satire "Weltverbesserungsmaßnahmen". He also received rare reviews for his portrayal of a self-destructive young man in the drama "Close" which won a nomination for the "First Steps Award". Besides his film work Bach is also seen in theatre productions.
As an actor, he remained attracted to unusual characters and ambitious projects. He won the 2006 Austrian Television Award and the Actor's Award at the Biarritz Television Festival for his turn in Elisabeth Scharang's "Mein Mörder" (AT 2005). After playing a calculating manager in "15 Minuten Wahrheit" (2007), Bach embodied legendary student protester Rudi Dutschke in Stefan Krohmer's made-for-TV drama "Dutschke" (2009), and won the German Television Award for his performance. Bach also got rave reviews for his turns in Buket Alakuş' tragicomedy "Finnischer Tango" ("Finish Tango", 2008) and in the football drama "66/67 – Fairplay war gestern" ("66/67: Fairplay Is Over").
He played the role of German terrorist Hans-Joachim Klein in Oliver Assayas' award-winning "Carlos – der Schakal" ("Carlos the Jackal", 2010) and the best friend of an introverted artist in the experimental feature "Das schlafende Mädchen" ("The Sleeping Girl"). In 2013, he starred alongside Corinna Harfouch, Sandra Hüller and Ronald Zehrfeld in the dark and surreal tragicomedy "Finsterworld".