Dean Reed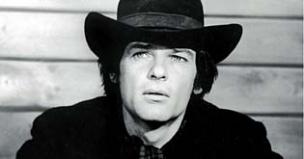 Quelle: 57. Internationale Filmfestspiele Berlin (Katalog)
Biography
Dean Reed was born September 22, 1938, in Lakewood, Colorado. At young age, he was already known as a long-distance runner, gymnast, and show jumper, and gained stage experience in a dance group. In 1956, he started to study geography and meteorology at the University of Colorado and worked as a part-time musician. But in 1958, he dropped out of university and went to Hollywood.

In Los Angeles, Reed was contracted for seven years by Capitol Records and visited the "School of Stars" at Warner Bros. But soon, Reed became an outcast because of his pacifist and Marxist opinions. His third single, "Our Summer Romance", became a huge hit in South America. Thus, Reed toured the continent several times during the following years. In 1964, Reed starred in his first movie, "Guadalajara en Verano", in Mexico. In 1965, Reed moved to Argentina and starred in several more films. Reed got his own TV show but when the show was dropped, Reed was extradited by the military junta for "endangering Argentina"s inner security". Reed then went on an extensive tour of the Soviet Union that was followed by tours mainly in other Eastern bloc countries.

In Rome, Reed starred in several spaghetti western movie as a bounty hunter, an avenger, or even as a classic hero. He also appeared in comedy films. Besides, Reed was still politically active. In 1972, he moved to the German Democratic Republic and became one of the country"s most popular show stars during the following years – nicknamed "The Red Elvis", "The Singing Cowboy", or even "Johnny Cash of Communism".

Reed starred in the title roles of the Eichendorff adaptation "Aus dem Leben eines Taugenichts" (1973) and the adventure movie "Kit & Co" (1974). He wrote his first screen play for the western movie "Blutsbrüder" ("Blood Brothers", 1975). Although "Blutsbrüder" received rather poor reviews, the film became a huge success at the box office. Reed then directed the TV movie "El Cantor" ("The Singer", 1977) and starred in the the leading role of the Chilean singer and victim of the Pinochet regime, Victor Jara. This film is considered to be his best effort. "Sing, Cowboy, sing" (1981) featured Reed as author, director, and leading actor and also became huge box office hit.

At the beginning of the 1980s, Reed got his own TV show, "Der Mann aus Colorado", but his popularity already slumped due to the contradictions concerning his life. Reed for instance was in favour of the Berlin Wall, but had the liberty to travel. Although he set up his last project, the ambitious film "Bloody Heart" about the Wounded Knee Rebellion of the Indians, for several years, Reed was not able to finish it. Shortly before the beginning of principal photography, on June 13, 1986, Reed drowned in the Zeuthen lake near Berlin. His death was never fully solved and resulted in several suicide or even murder rumours.
Filmography
2006/2007
Der rote Elvis
Participation
1983
Races
Cast
1980/1981
Sing, Cowboy, sing
Cast, Director, Screenplay, Scenario
1977
El Cantor
Cast, Director, Screenplay
1975/1976
Soviel Lieder, soviel Worte
Cast
1974/1975
Blutsbrüder
Cast, Scenario, Vocals
1974
Kit & Co
Cast
1972/1973
Aus dem Leben eines Taugenichts
Cast, Vocals
1969/1970
Blonde Köder für den Mörder
Cast