Eberhard Junkersdorf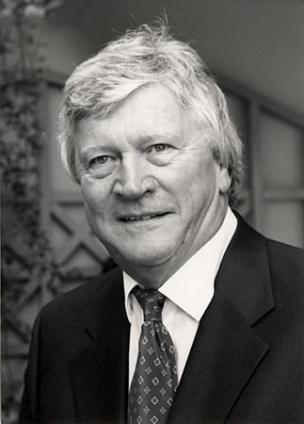 Source and ©: Eberhard Junkersdorf, Neue Bioskop Film
Biography
Eberhard Junkersdorf started his career in the movie business at the beginning of the 1960s as a unit manager at Rialto Film Preben Philipsen. In the mid-1960s, he came into contact with French and US production companies and directors, for instance while shooting the French-German co-production "Winnetou II" ("Last of the Renegades", 1964). From 1967 on, Junkersdorf worked at Independent Film for several comedies directed by Kurt Hoffmann.
In 1970, Junkersdorf started another collaboration that heavily influenced his further career and produced "Der plötzliche Reichtum der armen Leute von Kombach" ("The Sudden Wealth of the Poor People of Kombach") for Peter Fleischmann's and Volker Schlöndorff's production company Hallelujah-Film. Junkersdorf was also in charge of Schlöndorff's following films and served as a co-producer for "Lacombe Lucien", directed by Louis Malle.
In 1973, Junkersdorf set up Bioskop Film GmbH together with Volker Schlöndorf and Reinhard Hauff. Productions supervised by Junkersdorf include Achternbusch's "Das Andechser Gefühl", von Trotta's "Die bleierne Zeit" ("Marianne and Juliane", 1981) and "Rosa Luxemburg" (1986), as well as Hauff's "Messer im Kopf" ("Knife in the Head", 1978) and "Stammheim" (1985), that won the Golden Bear at the Berlin international film festival. Bioskop Film repeatedly served as co-producer for the films Volker Schlöndorff made in France and in the USA. These productions were highlighted by Academy Award nomination for Schlöndorff's film "Die Blechtrommel" ("The Tin Drum", 1979), an adaptation of the novel by Günter Grass.
In the mid-1990s, Junkersdorf turned to animation films and set up the animation film studio Munich Animation in 1995. In 1997, he debuted as a director with "Die furchtlosen Vier" ("The Fearless Four"). The film won the Bavarian film award. Junkersdorf then also directed the German-Belgian co-production of the animated film version of "Till Eulenspiegel" ("Jester Till") that was nominated for an Academy Award for animation films in 2003.
In 2002, Junkersdorf set up Neue Bioskop Germany (NGB1) that produced Oskar Roehler's Berlinale entry "Der alte Affe Angst" ("Angst", 2003), among others.
Junkersdorf serves as honorary chairman of Arbeitsgemeinschaft Neuer Deutscher Spielfilmproduzenten and as chairman of the supervising board and of the presidium of Filmförderungsanstalt (FFA) Berlin. From February 2008 to March 2015, he was chairman of the board of trustees of the Friedrich-Wilhelm-Murnau-Stiftung in Wiesbaden.
In 2001, Eberhard Junkersdorf was awarded with the Federal Cross of Merit, First Class, and in 2004 he received the Bavarian Order of Merit.
Filmography
2006
Die Unbeugsamen
Producer
2005/2006
Wo ist Fred!?
Co-Producer
2005-2007
Das wilde Leben
Producer
2005
Enigma - Eine uneingestandene Liebe
Producer
2002/2003
Till Eulenspiegel
Director, Screenplay, Producer
2002/2003
Der alte Affe Angst
Producer
2000/2001
The Shark and the Piano
Producer
2000
Im Club der Millionäre
Producer
1999/2000
alaska.de
Producer
1999/2000
Begierde
Producer
1999
Tobias Totz und sein Löwe
Co-Producer
1998/1999
Latin Lover - Wilde Leidenschaft auf Mallorca
Producer
1998-2000
Hilfe! Ich bin ein Fisch
Co-Producer
1996
Hollywood, Germany - Die amerikanische Herausforderung
Participation
1995/1996
Peanuts - Die Bank zahlt alles
Screenplay, Producer
1995-1997
Die Furchtlosen Vier
Director, Screenplay, Producer
1994
Das Schloß
Co-Producer
1993/1994
Das Versprechen
Producer
1993
Sirga - Die Löwin
Editing, Co-Producer
1992/1993
Der Kinoerzähler
Co-Producer
1992
The Michael Nyman Songbook
Producer
1991/1992
L'ombre
Co-Producer
1990/1991
Homo Faber
Producer
1990
Die Rückkehr
Co-Producer
1989/1990
Die Geschichte der Dienerin
Co-Producer
1988/1989
Blauäugig
Producer
1988-1992
Billy, How Did You Do It?
Producer
1988
Brennendes Geheimnis
Producer
1987/1988
Fürchten und Lieben
Co-Producer
1987/1988
Linie 1
Producer
1986/1987
Ein Aufstand alter Männer
Co-Producer
1986
Die Frau meines Lebens
Co-Producer
1985/1986
Rosa Luxemburg
Producer
1985/1986
Stammheim
Producer
1985
Tod eines Handlungsreisenden
Co-Producer
1984
Sigi, der Straßenfeger
Co-Producer
1983/1984
Zehn Tage in Calcutta. Begegnung mit Mrinal Sen
Producer
1983/1984
Eine Liebe von Swann
Co-Producer
1983/1984
Die Spieler
Co-Producer
1982/1983
Heller Wahn
Producer
1982
Der Mann auf der Mauer
Producer
1981-1983
Krieg und Frieden
Producer
1981-1983
Krieg und Frieden. 01. Episode: Rahmenhandlung
Producer
1981-1983
Krieg und Frieden. 02. Episode: Der Friedensmarsch der Dreihunderttausend in Bonn
Producer
1981-1983
Krieg und Frieden. 03. Episode: Vom Standpunkt der Infanterie
Producer
1981-1983
Krieg und Frieden. 04. Episode: Abschied von vorgestern
Producer
1981-1983
Krieg und Frieden. 05. Episode: Gespräche im Weltraum
Producer
1981-1983
Krieg und Frieden. 06. Episode: Atombunker
Producer
1981-1983
Krieg und Frieden. 07. Episode: Kill Your Sister
Producer
1981-1983
Krieg und Frieden. 08. Episode: Libanon
Producer
1981-1983
Krieg und Frieden. 09. Episode: Entwicklung
Producer
1981-1983
Krieg und Frieden. 10. Episode: Kohl in Washington
Producer
1981-1983
Krieg und Frieden. 11. Episode: Fahnen der Zeremonie
Producer
1981
Die Fälschung
Producer
1981
Die bleierne Zeit
Producer
1980
Endstation Freiheit
Producer
1980
Der Kandidat
Co-Producer
1979/1980
Gibbi Westgermany
Producer
1979
Schwestern oder Die Balance des Glücks
Producer
1979
...sonst würde das Kino sterben - Drei junge deutsche Filmproduzenten
Participation
1978/1979
Die Blechtrommel
Producer
1978
Messer im Kopf
Producer
1977/1978
Deutschland im Herbst
Line producer
1977/1978
Das zweite Erwachen der Christa Klages
Producer
1977
Der Hauptdarsteller
Producer
1976/1977
Nur zum Spaß - nur zum Spiel. Kaleidoskop Valeska Gert
Producer
1976
Der Fangschuß
Producer
1975/1976
Paule Pauländer
Producer
1975/1976
Nordsee ist Mordsee
Producer
1975
Die verlorene Ehre der Katharina Blum
Producer
1974/1975
Black Moon
Producer
1974/1975
Das Andechser Gefühl
Producer
1973/1974
Übernachtung in Tirol
Line producer
1973/1974
Die Verrohung des Franz Blum
Unit production manager
1973/1974
Lacombe Lucien
Producer
1972
Strohfeuer
Unit production manager
1971/1972
Die Moral der Ruth Halbfass
Unit production manager
1970/1971
Das Unheil
Cast, Unit production manager
1970/1971
Der plötzliche Reichtum der armen Leute von Kombach
Unit production manager
1970
Hauser's Memory
Line producer
1969
Ein Tag ist schöner als der andere
Unit production manager
1968/1969
Hannibal Brooks
Line producer
1968/1969
If It's Tuesday, This Must Be Belgium
Unit production manager
1968
Morgens um sieben ist die Welt noch in Ordnung
Location manager
1967
Rheinsberg
Location manager
1967
Herrliche Zeiten im Spessart
Location manager
1967
Mohamed bleibt in Israel
Director, Producer
1967
Die Bewässerung der Wüste Negev
Director, Producer
1967
Tel Aviv
Director, Producer
1967
Jerusalem
Director, Producer
1966/1967
Kommissar X: Drei grüne Hunde
Location manager
1966
Funeral in Berlin
Location manager
1966
Karriere
Location manager
1965
Winnetou III
Location manager
1965
Neues vom Hexer
Location manager
1964
Unter Geiern
Location manager
1964
Winnetou II
Location manager
1964
Die Gruft mit dem Rätselschloß
Location manager
1963/1964
Zimmer 13
Cast, Location manager
1963
Das indische Tuch
Cast, Location manager