Jim Rakete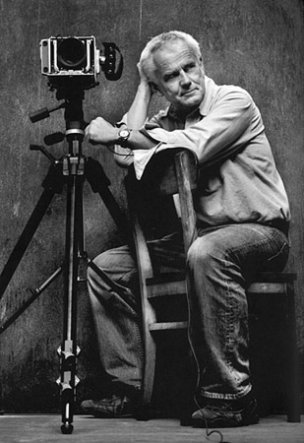 Jim Rakete: self-portrait
Biography
Jim Rakete (neé Günther Rakete) was born in Berlin on January 1, 1951. At the age of four, he took his first pictures and while still in school, he was already selling photographs to newspapers, magazines and agencies. He especially focused on the music scene, portraying world-famous artists like Ray Charles, Mick Jagger, David Bowie and Jimi Hendrix.
From 1977 to 1986, he ran the photo agency "Fabrik" and shot cover photos for numerous album releases by artists of the "Neue Deutsche Welle". He also produced records and managed several individual bands, including the Nina Hagen Band, Spliff, Die Ärzte, Interzone and Nena.From 1986 on, he worked primarily as a photo artist again. Since then, he has portrayed numerous German and international stars, among them Natalie Portman, Quentin Tarantino, Joe Jackson, Heike Makatsch, Jürgen Vogel, Til Schweiger and Axel Prahl.
During the 1990s, Jim Rakete commuted between Hamburg and Los Angeles and shot music videos and advertisements. In 2001, he returned to Berlin and worked extensively for the magazine "Cicero". He photographed many politicians for the publication, for instance Gerhard Schröder and Otto Schily. Today, Jim Rakete is working for virtually all renowned print publications in Germany.
Jim Rakete primarily works with analogue equipment and shoots on black and white stock. From 1997 on, his works have been shown in numerous exhibitions, for instance at the Museum Sankt Ingbert in 1998 and at the Suermondt Ludwig Museum in 1999. From September 2008 to January 2009, the Deutsches Filmmuseum (Frankfurt) presented a series of portraits titled "1/8 – AUGEN/BLICK/PORTRAITS". This was followed two years later by "Stand der Dinge", a series encompassing 100 portraits which Jim Rakete made exclusively for the Deutsche Filmmuseum between 2009 and 2011.
In the following years, the highly praised exhibition went to tour all of Germany and was presented at numerous museums, galleries and exhibition halls such as the Willy-Brandt Haus Berlin, the Kunst- und Kulturzentrum der Städteregion Aaachen, the Städtisches Museum Braunschweig, the Stadthaus Ulm, as well as the FO.KU.S BTV Stadtforum in Innsbruck, Austria.
Rakete first approached digital photography with a series of 77 portraits of the ensemble members of the Wiener Burgtheater, using a digital black-and-white rangefinder camera. The photos were on display under the title of "Jim Rakete. Die Burg. Innenleben" at the Leica Galerie Wien in 2015.