Johannes Naber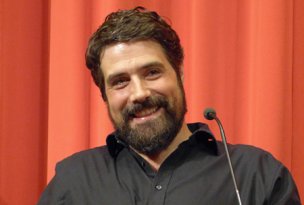 Source: DIF, Foto: Sarah Hujer
Johannes Naber at the Deutsches Filmmuseum, Frankfurt am Main, on June 11, 2014
Biography
Johannes Naber was born in 1971 in Baden-Baden. He studied Philosophy and Indian Philology at the Freie Universität Berlin and Film at the Baden-Württemberg Film Academy. His screenplay for "Nordwand" ("North Face") was awarded the 2009 Prize of German Film Critics. Naber's directorial debut "Der Albaner" ("The Albanian") won the 2010 Max-Ophüls-Preis and the Silver George at the Moscow International Film Festival.
Naber's follow-up, the scathing comedy "Zeit der Kannibalen" ("Age of Cannibals"), premiered in the "Perspektive Deutsches Kino" section of the 2014 Berlin IFF and was released theatrically in May 2014.
At the Deutscher Filmpreis 2015, "Zeit der Kannibalen" was nominated for Best Directing and won the Award in bronze in the category Best Picture, as well as one for Best Screenplay. The critics' association Verband der deutschen Filmkritik also awarded the film Best Picture and Best Screenplay. Sebastian Blomberg and Devid Striesow were honoured as Best Actors.
In the summer of 2015, Naber started principal shooting of his next film, a prominently cast adaptation of Wilhelm Hauff's classic fairytale "Das kalte Herz" ("Heart of Stone"), which opened in cinemas October 2016.