Katharina Wackernagel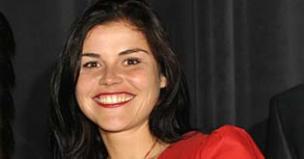 Quelle: Constantin, DIF, © Constantin Film Verleih
Bei der Filmpremiere zu "Der Baader Meinhof Komplex" (2008)
Biography
Katharina Wackernagel, born October 15, 1978, in Freiburg im Breisgau, became known in the leading role of the TV series "Tanja" in 1997. After starring in several TV and movie productions, including Angela Schanelec's film "Plätze in Städten" ("Places in Cities"), she directed her first film in 1999, the ten-minute long short film "Think Positive" that won an audience award at the Dresden film festival. Furthermore, she starred in Sönke Wortmann's film "Das Wunder von Bern" ("The Miracle of Bern", 2003) and played a girl who takes up boxing in order to fight against the lack of prospects in her everyday life in "Die Boxerin" ("About a Girl", 2005), directed by Catharina Deus.
Since 2002, Wackernagel plays the daughter of criminal investigator Maximilian Bloch, played by Dieter Pfaff, in the TV crime series "Bloch". She also played a distinctive role in the equally controversial and highly-praised TV drama "Contergan" ("Side Effects"). Based on the true story of a pharmaceutical scandal, Wackernagel played a woman in the film directed by Adolf Winkelmann who delivers a handicapped baby because of a drug she took during pregnancy and who takes the responsible pharmaceutical company to court. Her performance in the two-part TV movie won Wackernagel a nomination for the Grimme award. Furthermore, she won the 2008 Bavarian film award as "Best actress". She also won the Bavarian film award as "Best actress" for her intense portrayal of a threatened chief witness in the thriller "Mein Mörder kommt zurück" (2007).
After a rather small, yet memorable role as RAF terrorist Astrid Proll in Uli Edel's film "Der Baader Meinhof Komplex" ("The Baader Meinhof Complex", 2008), Katharina Wackernagel was seen in two films on the movie screen in 2009, in Lars Jessen's film "Der Schimmelreiter" ("Sheep and Chips") and in "Résiste – Aufstand der Praktikanten" ("Resist – Rebellion of the Trainees"), a romantic comedy about a slick yuppie who falls in love with no-one other than a leftist activist, played by Wackernagel.