Matthias Kutschmann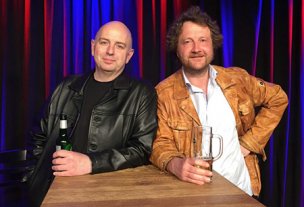 Source: Concorde Filmverleih, DIF, © 2016 Concorde Filmverleih, Wolfgang Ennenbach
Frank Goosen (author of "Radio Heimat"), director Matthias Kutschmann (from left to right)
Biography
Matthias Kutschmann was born in Dortmund in 1970 and studied film, television and theatre as well as literature and art history at Bochum University from 1991 to 1997. During that time, he was endowed with a film scholarship at the Faculty of Arts at the University of Glasgow, Scotland (1995/96). After graduating, he enrolled at the Hochschule für Fernsehen und Film (HFF) in Munich to study film directing. His 22 minute thesis film "Solo ohne Ende" (2002) premiered at Hofer Filmtage and screened in the short film competition of the Max Ophüls Festival 2003. It won the audience award at Würzburger Filmfest in 2003.
In the subsequent year, Kutschmann worked in marketing and public relations for different companies and organizations; in 2008/09, he also worked as an editor for TV station Vox. In 2010, he started to work as a freelance author and director of several satirical pseudo-documentary shorts that often featured the farmer Horst Schulze Entrum, a fictional character constantly faced with challenges and played by Kutschmann himself. In "Das Wasser der Seseke" (2010), Entrum had to distinguish the rivers and creeks of his native region by their taste in order to be accepted by his father as his heir. The 7 minute film won the Preis des Lippeverbandes at Kinofest Lünen. "Rettet die Aisbärn" (2010) in which Entrum protests for a soot-free climate was nominated for the Umweltfilmpreis Bremen.
In 2016, Matthias Kutschmann made "Radio Heimat", his first feature length film. Aside from helming the film, Kutschmann also adapted the screenplay from Frank Goosen's coming-of-age story set in the Ruhr Area of the 1980s.