Mika Taanila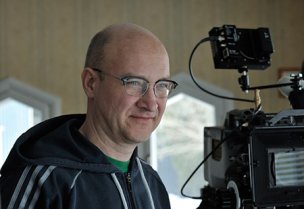 Source: Real Fiction Filmverleih, Photo: Sami Kuokkanen
Biography
Mika Taanila was born in Helsinki on May 22 1965. From 1985 until 1988, he studied cultural anthropology in Helsinki, and subsequently, he was a student at the design institute in Lahti (1989-1992). During his university years, he already completed several shorts and documentaries. Recurring subjects of his films were technological utopias, the fallacies of technology and the relation between man and machine. With works that oscillate between experimental cinema and fine art, he became one of the most prolific Finnish media artists, whose films continue to screen at festivals all over the world.
In 1994, he founded the Helsinki Film Coop, and he also worked as a curator for the short film festivals in Uppsala and Tampere, where his short documentary "Futuro - tulevaisuuden olotila" (1998) won the award for Best Finnish Short. Since 2000, Taanila serves as programming director of the Avanto Helsinki Media Art Festival.
Moreover, his films and video installations were part of numerous international group exhibitions, including the Documenta 13 (2012) and the Biennales in Istanbul (2001), Shanghai (2006) and Venice (2017). He also had solo exhibitions, for example at the Museum of Contemporary Art in St. Louis and the Zelt Museum in Rotterdam. In 2015, Taanila received the Ars Fenica, Finland's most prestigious award for the arts.
Mika Taanila premiered his first feature length film at the 2015 Toronto International Film Festival: "Return of the Atom" (2005-2015), co-directed by his long-time cinematographer Jussi Eerola, chronicles the construction of a nuclear reactor on the Finnish peninsula Olkiluoto over the course of several years. The film won Taanila and Eerola the Nordic Dox Award at the 2015 CPH:DOX in Copenhagen.
In addition to his work as a filmmaker, Mika Taanila teaches at the Academy of Fine Arts in Helsinki.