Rick Kavanian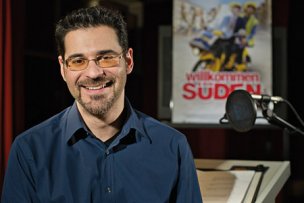 Source: Constantin Filmverleih, DIF, © Constantin Filmverleih
Rick Kavanian as dubbing actor for "Willkommen im Süden" (Italy 2010)
Biography
Rick Horatio Kavanian, born January 26, 1971, in Munich as the son of Armenian immigrants, studied political science, American studies, and psychology in Munich and Augsburg from 1990 to 1995. In 1990, he also started his collaboration with Michael "Bully" Herbig and worked together with Herbig as an author and host for the Munich-based radio comedy show "Langemann und die Morgencrew".
In 1995, Kavanian attended actor's training for one year at New York's Actor's Studio, before he continued his collaboration with Herbig in 1996. Together, they wrote and hosted the weekly radio program "Bully's Late Night Show" (1997). Furthermore, Kavanian worked for the TV comedy "Easy Bully" (1997) on Pro7 that was written and directed by Herbig.
In 1997, they also started their TV comedy show "Bully Parade" on Pro7 that saw Kavanian as author and as an actor in numerous roles. The large success of this show that ran until 2002 and mainly consisted of pieces revolving around bizarre, constantly recurring characters was Herbig's and also Kavanian's final breakthrough. From 2004 to 2006, both appeared in the comedy show "Bully & Rick" before the show was cancelled after only two seasons.
With "Der Schuh des Manitu" ("Manitou's Shoe"), the comedy team Kavanian and Herbig finally entered the movie screen in 2001 – and celebrated an overwhelming box office hit: The carefully developed "Winnetou" parody attracted 12 million viewers to the cinemas and won numerous awards. Kavanian again served as a co-author and actor in Herbig's next film, the successful science fiction comedy "(T)Raumschiff Surprise – Periode 1" ("Dreamship Surprise - Period 1", 2004). The film won him and the rest of the creative team a German Comedy Award.
Following supporting roles in "Lissi und der wilde Kaiser" ("Lissi And The Wild Emperor", 2007) and "Keinohrhasen" ("Rabbit Without Ears", 2007), Kavanian was one of the leads in Til Schweiger's 2008 adventure romp "1 ½ Ritter – Auf der Suche nach der hinreißenden Herzelinde" ("1 ½ Knights – In Search of the Ravishing Princess Herzelinde"). He went on to play a hitman in the romantic comedy "Mord ist mein Geschäft, Liebling" (2009) and was part of the all-star comic cast of "Otto's Eleven" (2010).
From 2011 until 2014, Rick Kavanian co-hosted the comedy TV show "Die Klugscheißer". After already re-teaming with Michael Herbig for the six-part sitcom "Bully macht Buddy" (2013) and the subsequent feature film "Buddy" (2013), Kavanian joined Herbig and Christian Tramitz for the theatrical release "Bullyparade - Der Film" ("Bullyparade – The Movie", 2017), for which the three leads revisited their most iconic characters from the popular TV show.
Kavanian also remains in high demand as a voice talent. He is the German voice of Hollywood actor Mike Myers, has dubbed characters for the German versions of "Happy Feet" (US/AU 2006) and the "Madagascar" franchise (2005-2012), and also voiced a character in "Keinohrhase und Zweiohrküken" (2013). His voice performance as the titular character, Ritter Rost, in the animation feature "Ritter Rost" ("Knight Rusty", 2013) won him an award at the Stuttgarter Trickfilmfestival.
Kavanian regularly tours on stage, most recently with his stand-up program "Offroad" (2017).