Volker Schlöndorff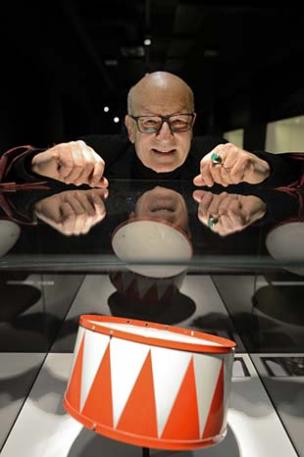 Source: DIF, © Thomas Lohnes
In front of the show case with his "Blechtrommel" in the Deutsches Filmmuseum Frankfurt am Main on March 28, 2013
Biography
Volker Schlöndorff was born in Wiesbaden on March 31st 1939. While still in school, he participated in a student exchange programme with France in 1956 – and instead of the planned two months, he stayed for ten years: In 1959, he graduated with the baccalauréat from his school in Paris (with director Bertrand Tavernier being one of his classmates). After also receiving his German school diploma in Frankfurt, he returned to Paris where he obtained a university degree in political science. Subsequently, Schlöndorff enrolled at the Institut des Hautes Etudes Cinematographiques (IDHEC) in Paris. There he made acquaintance of Louis Malle, with whom he would collaborate on several occasions in the following years.
In 1960, Schlöndorff shot the short "Wen kümmert's" about Algerians living in Frankfurt. The film did not get a certification from the FSK, the German board of film classification, due to its alleged "biased stance against a friendly nation" (e.g. France). In the winter of 1960, he assisted director Ludwig Berger at the Sender Freies Berlin network; and together with Louis Malle, he worked on features about Southeast-Asia and Algeria for French television.
Around the same time, Schlöndorff began to work as an intern and assistant director on productions by emerging and already famous French directors like Malle, Jean-Pierre Melville and Alain Resnais. In 1964, he received a grant of 20.000 Deutsche Mark for his first screenplay "Der junge Törless", an adaptation of Robert Musil's novel "Die Verwirrungen des Zöglings Törleß". After assisting Louis Malle during the shoot of "Viva Maria" in Mexico, he began production on "Der junge Törleß" in the winter of 1965. The film turned out to be a critical success, garnering three German Film Prizes (for Best Film, Best Direction and Best Screenplay), and is today considered to be the first international hit of the New German Cinema. He shot his second feature film "Mord und Totschlag" (1967) in colour, which was unusual for a young director, and followed that with the international co-production "Michael Kohlhaas – Der Rebell" (1968). From 1969 on, Schlöndorff worked closely with Margarethe von Trotta, who started out as an actress and then became his assistant director, co-author and co-director. The two married in 1971.
In 1969, Schlöndorff and fellow filmmaker Peter Fleischmann founded the production company Hallelujah-Film in Munich. And in 1974, he and Reinhard Hauff became majority shareholders in the Bioskop-Film, which to this day is managed by Eberhard Junkersdorf and handles all his productions. From early on, Schlöndorff became actively involved in cultural politics: He participated in the debates surrounding the public funding of film productions and between 1974 and 1978, he was on the German Federal Film Board as a representative of the Social Democratic Party .
In between his films, Schlöndorff frequently ventured into the world of the opera. He directed the 1974 staging of "Katja Kabanova" in Frankfurt, the 1976 Berlin production of "Wir erreichen den Fluß", and in the same year – together with Mathieu Carrière – "Zoopalast" in Montepulciano,. In 1981, again in Montepulciano, he staged Purcell's "Didon et Enée", and in 1984, he directed the production of Puccini's "La Bohême" in Frankfurt.
Schlöndorff's final commercial breakthrough came in 1975 with the adaptation of Heinrich Böll's "Die verlorene Ehre der Katharina Blum", which he co-directed with Margarethe von Trotta (who went on to make her own films). Because of the film, which questions the role of tabloid press and police in the fight against left-wing extremism and alleged Red Army Fraction (RAF) terrorists, and because of his own support for a legal defense fund for political prisoners, Schlöndorff was subsequently heavily criticized by right-wing pundits and the conservative party. In 1978, he was one of initiators and – with Alexander Kluge – producers of the compilation film "Deutschland im Herbst", which dealt with the impact of RAF terrorism on German society. "Der Kandidat" und" Krieg und Frieden" –1980 and 1982 respectively – were another two collaborative semi-documentary works, which tried to counter the televised perspective on political issues.
That time also saw his biggest commercial and critical success to date: The elaborate adaptation of Günter Grass' novel "Die Blechtrommel" won the Golden Palm at the 1979 Cannes International Film Festival (ex aequo with Coppola's "Apocalypse Now") and also received the Academy Award for Best Foreign Language Film in February 1980. This, plus the many more prizes bestowed on "Die Blechtrommel", was perceived as an important sign of New German Cinema's international recognition.
After "Die Fälschung" (1981), which was mainly filmed on location in Beirut, Schlöndorff directed an international all-star cast (including Jeremy Irons, Ornella Muti, Alain Delon and Fanny Ardant) in the lavish French-German co-production "Eine Liebe von Swann", an adaptation of one of the chapters from Marcel Proust's novel "A la recherche du temps perdu".
In 1985, Schlöndorff helmed the film adaptation of Arthur Miller's "Death of a Salesman" starring Dustin Hoffman. "Ein Aufstand alter Männer", "Die Geschichte der Dienerin" (1990) and the award-winning "Homo Faber" (1991) were also German-American co-productions and featured prominent actors. In 1991, his marriage to Margarethe von Trotta was dissolved; in 1992, he worked with film critic Hellmuth Karasek on "Billy, How Did You Do It?", a six-part TV series on legendary director Billy Wilder.
"Der Unhold", starring John Malkovich, premiered at the 1996 Venice International Film Festival to mixed reviews and did not fulfil the box office expectations. Shot in the US, the neo-noir "Palmetto" (1997) featuring Woody Harrelson and Elisabeth Shue also did not live up to its potential. Success and critical acclaim returned with "Die Stille nach dem Schuss", a gripping drama about West-German left-wing terrorists who found refuge in the German Democratic Republic of the 1970s. The film was in the competition of the 2000 Berlin International Film Festival, and garnered lead actresses Bibiana Beglau and Nadja Uhl a Silver Bear. Equally successful was the multi-award winning "Der Neunte Tag" (2004), an intense drama about the Holocaust, starring Ulrich Matthes and August Diehl.
"Strajk – Die Heldin von Danzig" (2006), was a dramatisation of the real-life struggle of Anna Walentynowicz, who was one of the founders of the Polish workers movement Solidarnosc. This was followed by "Ulzhan – Das vergessene Licht" (2007), a poetic drama set in the prairie of Kazakhstan which dealt with the peculiar relationship between a nomad woman and a life-weary European.
With Peter Greenaway and other filmmakers, Schlöndorff contributed to the 2010 release "Michael Nyman in Progress", a film portrait of the eponymous composer and musician. Two years later, the WWII drama "Das Meer am Morgen", written and directed by Schlöndorff, premiered at the Berlin IFF. His next film also screened in Berlin and again, the story – based on the stage play by Cyril Gély – was set in WWII: "Diplomatie" (2014) depicts a (fictitious) argument between the Swedish consul general and the German army commander of Paris in the year 1944, just as Hitler has ordered the total destruction of the city.
Filmography
2017
Der namenlose Tag
Director, Screenplay
2016/2017
Rückkehr nach Montauk
Director, Screenplay, Producer
2016
Töne bedeuten mir mehr als Worte
Participation
2014/2015
Fassbinder
Participation
2013/2014
Von Caligari zu Hitler
Participation
2013/2014
Diplomatie
Director, Screenplay, Adaptation, Dialogue
2011/2012
Das Meer am Morgen
Director, Screenplay
2010
Michael Nyman in Progress
Participation
2008
Michael Ballhaus - Eine Reise durch mein Leben
Participation
2006/2007
Ulzhan - Das vergessene Licht
Director, Co-author, Co-Producer
2006/2007
Fritz Lang
Participation
2005/2006
Strajk - Die Heldin von Danzig
Director
2005
Knef - Die frühen Jahre
Participation
2005
Enigma - Eine uneingestandene Liebe
Director, Screenplay, Dialogue
2003/2004
Der neunte Tag
Director
2002/2003
Die Verhoevens
Participation
2002-2005
Wer ist Helene Schwarz?
Participation
2002
Ein Produzent hat Seele oder keine
Participation, Director
2001/2002
Ten Minutes Older - The Cello
Director
2001/2002
The Enlightenment
Director
2001/2002
Marlene Dietrich - Her Own Song
Participation
1999/2000
Die Stille nach dem Schuß
Director, Co-author
1999/2000
Ein Mann für jedes Alter
Participation
1998-2000
Schrott. Die Atzenposse
Cast
1997/1998
Palmetto
Director
1997
Perfect soldier
Director
1996-2002
Jedermanns Fest
Producer
1996
Ein unbequemer Moralist. Wolfgang Staudte. Filmregisseur in Deutschland
Participation
1995/1996
Der Unhold
Director, Screenplay
1995
Die Eisprinzessin
Executive producer
1994/1995
Die Nacht der Regisseure
Participation
1994/1995
Eine französische Frau
Co-Producer
1993
UFA. Mythos und Wirklichkeit
Participation
1992
Ich will nicht nur, daß ihr mich liebt. Der Filmemacher Rainer Werner Fassbinder
Participation
1992
The Michael Nyman Songbook
Director, Screenplay
1991
Filmstunde 1
Participation
1991
Es wäre besser, ein anderer zu sein. Die filmischen Spekulationen des Volker Schlöndorff.
Cast
1990/1991
Homo Faber
Director, Screenplay
1990
Präsentationsfilm
Participation
1989/1990
Die Geschichte der Dienerin
Director
1989
Aspekte: Wilder-Auktion
Participation, Director, Screenplay, Interviews
1989
Ching Ling, die Fliege
Voice
1988-1992
Billy, How Did You Do It?
Participation, Voice, Director, Screenplay, Commentary, Interviews
1986/1987
Ein Aufstand alter Männer
Director
1985/1986
Vermischte Nachrichten. Bundeskanzler Helmut Schmidt in der DDR
Voice, Director, Screenplay, Commentary
1985
Tod eines Handlungsreisenden
Director, Screenplay
1985
Humor ist eine ernste Sache. Der Filmregisseur Kurt Hoffmann
Participation
1983/1984
Eine Liebe von Swann
Director, Screenplay, German dialogue
1981-1983
Krieg und Frieden
Voice, Director, Screenplay, Commentary, Co-Producer
1981-1983
Krieg und Frieden. 06. Episode: Atombunker
Director, Commentary
1981-1983
Krieg und Frieden. 08. Episode: Libanon
Director, Screenplay, Commentary
1981-1983
Krieg und Frieden. 05. Episode: Gespräche im Weltraum
Director, Commentary
1981-1983
Krieg und Frieden. 07. Episode: Kill Your Sister
Director, Commentary
1981-1983
Krieg und Frieden. 04. Episode: Abschied von vorgestern
Director, Screenplay, Commentary
1981
Die Fälschung
Director, Screenplay
1980
Der Kandidat
Participation, Voice, Director, Screenplay, Commentary, Interviews, Co-Producer
1978/1979
Die Blechtrommel
Director, Screenplay
1977/1978
Deutschland im Herbst
Director, Screenplay, Interviews, Co-Producer
1977/1978
Deutschland im Herbst. Episode 14: Die Beerdigung in Stuttgart
Director
1977/1978
Deutschland im Herbst. Episode 13: Die verschobene Antigone
Director
1977/1978
Deutschland im Herbst. Episode 01: Prolog: Beerdigung von Hanns Martin Schleyer
Director
1977/1978
Deutschland im Herbst. Episode 03: Staatsakt für Hanns Martin Schleyer
Director
1976/1977
Nur zum Spaß - nur zum Spiel. Kaleidoskop Valeska Gert
Participation, Voice, Director, Screenplay, Commentary, Interviews
1976
Der Fangschuß
Director
1975
Die verlorene Ehre der Katharina Blum
Director, Screenplay
1974/1975
Black Moon
German dialogue
1974/1975
Georginas Gründe
Director, Co-author
1973/1974
Übernachtung in Tirol
Director, Screenplay, Producer
1973/1974
Lacombe Lucien
German dialogue
1972
Strohfeuer
Director, Screenplay, Producer
1971/1972
Die Moral der Ruth Halbfass
Director, Screenplay, Producer
1970/1971
Mathias Kneißl
Cast
1970/1971
Herzflimmern
Screenplay
1970/1971
Der plötzliche Reichtum der armen Leute von Kombach
Director, Screenplay, Producer
1970
Rio das Mortes
Story
1969
Warum läuft Herr R. Amok?
Cast
1969
Baal
Director, Screenplay, Producer
1969
Michael Kohlhaas - Der Rebell
Director, Screenplay
1967
Der Paukenspieler. 3. EP: Ein unheimlicher Moment
Director, Screenplay
1966/1967
Mord und Totschlag
Director, Screenplay
1966
NDF-Report
Participation
1965/1966
Der junge Törless
Director, Screenplay
1960
Die Nacht in Zaandam
Assistant director
1960
Wen kümmert's?
Director, Screenplay, Editing