Ayşe Polat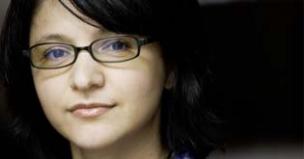 Quelle: Ayse Polat, Foto: Achim Hehn
Biografie
Ayse Polat was born into a Kurdish-Alevite family in Malatya/ Turkey in 1970. At the age of seven, she came to Germany and grew up in Hamburg, where she completed her university qualifying examinations in 1990. Subsequently, she studied Philosophy, Cultural Science and German Literature in Berlin and Bremen.
After making the first Super-8 short films and video works during her schooldays – the video work "Entfremdet" won a promotional award – and gaining experience at theaters in Hamburg, she made her first short feature film during her studies: "Fremdennacht", a 15-minute film promoted by the Hamburger Filmbuero at that time. It was followed by the short film "Ein Fest für Beyhan" (25 min), which was shown at many international festivals, acquired by the Goethe Institute, and awarded several prizes – including one in Münster and at the Turkish Film Festival in Nuremberg. "Graefin Sophia Hatun" (15 min) participated at the festival in Locarno and won the jury award in Ankara.
Polat's first full-length feature film was "Auslandstournee" in 2000; after its premiere in Karlovy Vary, it was screened at many festivals and won several prizes. Polat's second feature film "En Garde" was premiered in the Locarno competition in 2004, where it won the Silver Leopard for the second best film in the competition as well as an award for the Best Actress (ex aequo for Maria Kwiatkowsky and Pinar Erincin). It went on to win several more prizes later.
In 2008 Polat moved from Hamburg to Berlin, where she founded her own production company PunktPunktPunkt Filmproduktion, with which she completed her latest feature film, "Luks Glück", in 2010.
Source: German Films Service & Marketing GmbH
Filmografie
2016
The Others
Regie, Drehbuch, Produzent
2012/2013
Die Erbin
Regie, Drehbuch, Produzent
2009/2010
Luks Glück
Regie, Drehbuch, Co-Produzent
2003/2004
En Garde
Regie, Drehbuch
2001/2002
Fickende Fische
Script
1999
Auslandstournee
Regie, Drehbuch
1997
Gräfin Sophia Hatun
Regie, Drehbuch
1994
Ein Fest für Beyhan
Regie, Drehbuch
1992
Fremdennacht
Regie, Drehbuch
1991
Entfremdet
Regie
1989
Dein Land ist mein Land
Mitwirkung, Regie-Assistenz, Kommentar, Geschäftsführung